Sue Donnellan – Award winning Glass Artisan
Sue Donnellan is a native of Dublin and a stained glass and kiln fused glass artist.  The western shores - in particular Connemara with its raw magical beauty - have captured Sue's heart, and inspire her work. Sue enjoys exploring the relationship between light & colour and this is evident in her beautiful contemporary stained glass lamps, kiln fused dichroic jewellery, driftwood and glass sculptures, copper work and bespoke candle holders. Each piece of Sue's work is an embodiment of her passion for working with glass. All of the work created by Sue is unique, and the dance between light, colour, form and composition is inspiring.
The Glass Craft Team
Dee
Shop Manager
Born in the UK, and returned to Ireland in 2006 to take up sheep farming at the foothills of the Slievenamon mountains. The first to introduce the much loved four legged woolly sheep to the studio. Manages the shop and loves the chat with the locals.
Natalia
Artist
Natalia, An English language teacher, and song writer, loves to sing while making  jewellery in the studio, and enjoys meditation by the seashore...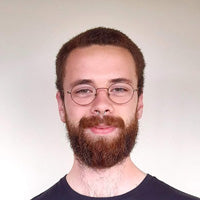 Patrick
Artist
A well travelled engineer from Dublin, loves his freshly brewed coffee in the morning, before cutting up the glass, and a dip in the wild Atlantic Ocean after a day in the workshop!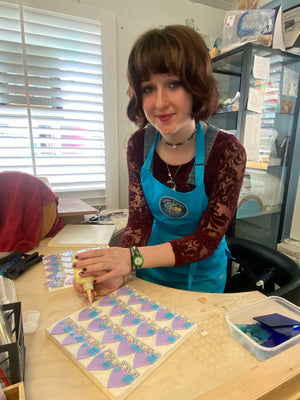 Kate
Artist
Kate is our youngest team member and loves the challenge of creating new bespoke glass jewellery in the studio, and loves teaching the Irish students a few new words during the summer months....